Non linear was a great progress for editing, but linear editors always had complaints about wasted time for pre-recording. ivsCapture deletes this waste of time allowing to capture your footage into several formats including the DPS file format without stopping your editing, allowing to edit the same clip you're capturing, whithout to use your Reality, Quattrus or Altitude hardware.
"Play and Edit While Rec" technology generates the .dps/.dva file when you press the "Record" button, allowing to add the file both to Velocity timeline and gallery. At the beginning all the frames will be black, but these ones will be replaced in realtime from your video source during capture, allowing what you think was impossible.
ivsCapture is available as stand alone application or it is bundled with ivsEdits and ivsPowerPack for Velocity.
The ivsCapture Pro version allows to capture several video sources in the same workstation at the same time. A dual Xeon dual core workstation can capture up to 6 sources without problems. This feature, associated with ivsEdits or VelocityQ/velocityHD multicamera features, allows to use a NLE system as a broadcast live video switcher*, with great advantages on traditional equipments; all video sources already recorded as well as editing decisions, so it is very easy and fast to make any additional editing . For live events this means saving a lot of time.
ivsCapture supports firewire inputs through standard OHCI Firewire cards under Windows (32 & 64bit), and SDI/Analog through Black Magic Design capture devices.
ivsCapture key features:
Supports SD, HD, 2K sources

Supports Blackmagic Design Capture Devices and OHCI firewire

Supports VTRs and cameras remoting using Sony RS422 or Ilink Firewire protocols

Works with Windows XP, Vista and Seven (32 and 64 bit versions)

Captures in MPEG2 selectable between 4:2:0 and 4:2:2 with bitrate up to 60Mbits

Captures in AVI: DV, DVCPRO 25, DVCPRO50, DVCPRO100 HD, Blackmagic, MJPEG

Captures in IMX 30/40/50Mbits 4:2:2 (.mxf)

Captures in XDCAM HD 50Mbits 4:2:2

Captures in DVA/DPS file format saving Timecode and Reel names.

Captures/streams in Windows Media Format

Makes aspect ratio changes (16:9 to 4:3 and vice versa) and Up/downscaling during Capture

Adds broadcast video filters (BLUR, SHARPEN and GLOW) while capturing Allows Realtime color correction (White & Black levels, saturation, etc.)

Allows to Overlay 32bit Graphics, Timecode, date and time , Titles during the capture

Allows to change clip name after the capture.

Allows to adjust audio volume even from digital sources (Firewire & SDI)

Can improve the quality of your DVDs, as well as the playout of your TV Station (capturing with Bandwidth Trimmer feature)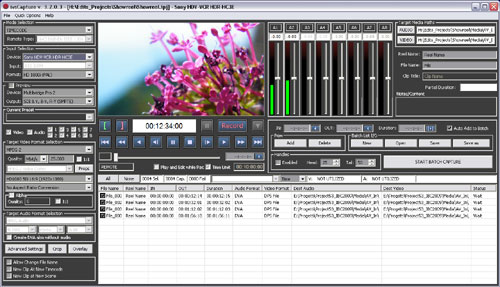 to get more info:
please send e-mail to info@ivs.it o sales@ivs.it
Company contact: please contact Paolo Castellano to +39-347-3890560 or paolo.castellano@ivs.it
Some Informations about IVS

Interactive Video Systems (IVS)
is an Italian company specialized in solutions for the Digital Video and the Content Creation. IVS develops proprietary solutions for graphics, displays, cinemas, TV and distributes the best of the worldwide production in the sectors of the professional audio-visual media, and high end IT solutions.
For more informations, visit www.ivs.it.