ivsRecode is an advanced software for the conversion of most common audio video SD and HD file formats (AVI, MPEG, MOV, MXF, WMV, HDV, MP4) into DVA and DPS formats. ivsRecode offers an extraordinary level of quality, flexibility and speed, impossible to get from any other tool or Reality and Quattrus hardware. ivsRecode can convert one hour length Mpeg2 or Vob files in less of 5 minutes (~50x times faster than Velocity 8), and allows the user to enable a special feature called "Play and Edit while Rec" that allows adding and editing a DPS/DVA clip on any Velocity (v.8.2 or higher) timeline without waiting for the end of the file conversion.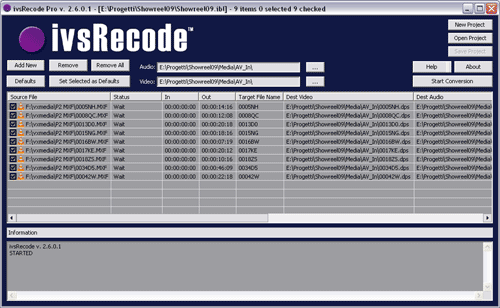 Quality: In order to offer a higher quality level, we developed a new and more advanced JPEG codec fully compatible with the hardware and software of Reality and Quattrus. This Jpeg codec allows generating dps files that are cleaner and lighter (in hard drive requirement) than using the old DPS software codec or the Zoran Chipset used by all the Reality and Quattrus cards.
Speed: ivsRecode engine is very accurate and very fast at the same time. The code is optimized to take advantage of multi-core and multi-CPU systems. A workstation based on Corei7 920 converts a SD Mpeg2 file with a speed factor near 16x (440fps).

Flexibility: The feature "Play and Edit while Rec" allows creating DPS and DVA files at fixed size that can be immediately collected and edited in any version of VelocityQ and VelocityHD during the conversion process of each clip. This means that having a one hour length Mpeg2 file no time is required to begin the editing of the resultant DVA and DPS files.

ivsRecode supports as source also the QuickTime 32 format (with Alpha) that is still not correctly supported with Velocity 8.

ivsRecode includes a smart video resizer to adjust frame resolution to the PAL or NTSC screen size required by DPS format (720x576 and 720x486) allowing any aspect ratio conversion from 16:9 to 4:3 and from 4:3 to 16:9.
ivsRecode is a great tool to browse and to convert quickly many types of multimedia files in to DVA/DPS files from many videoservers of several manufacturers as Leitch(Nexio), EVS and SeaChange.
Visual Trimmer to trim the clips to convert: it saves TIME and HDD space.
ivsRecode supports Panasonic P2 DVCPRO and AVC Intra recorded in Standard and Native Recording Mode.
ivsRecode supports Sony XDCAM SD/HD/EX in MXF and MP4 containers.

Boost up the performance and productivity of your Velocity/Q/HD system with ivsRecode.
ivsRecode is bundled with ivsEdits and ivsPowerPack too.
7 Reasons to Buy ivsRecode

Faster than your standard Velocity/Q/HD by a factor of 8-50X

More Flexible (you can edit your clips before conversion ends)

Visual Trimmer

Background processing

More Quality

More Features (Aspect ratio conversion, UP/DOWN cross conversion, color space conversion, etc.)

HD Ready (use HD equipment with Reality or Quattrus systems)



Boost up the performance and productivity of your Velocity/Q/HD system with ivsRecode.